Your favorite wall letters, words, quotes & decals can personalize your decor instantly!
Dream decal
benvenuto alla villa entrance
Anthony Martin, Shreveport, Louisiana
beach house bedroom
Sally Bacarella, Bacarella Interiors, Ocean, New Jersey
Family Established
Mary Kolesar, Riverview, Florida
Dancing is like dreaming with your feet
Barry Shelley, Cary, North Carolina
Life is Special enjoy it one step at a time
Nicole Zeuner, Livingston, New Jersey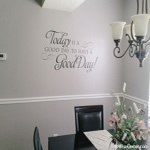 Today is a good day to have a good day!
Nancy Farver, Pace, FL
Love Hoo you are
From Bev Holte - Edgar, Wisconsin. Bev worked with our designers put two great lettering decal styles, "Curlz" and "Smart Frocks" together to make a beautiful caption for her daughter's Owl-themed room.
Design Details
Color - Teal
Lettering Size - 2-inch
Slevin's dairy farm
Sarah Heyer, Mechanicsville, Virginia
Scripture House Rules
Donna Blackmon, Plano, Texas
those who REFRESH others will themselves be refreshed
Sanctuary Entrance - Central Baptist Church, College Station, TX - Dayna Nichols
Enter into his gates with thanksgiving Wall Decal
Church entry area - Mt. Calvary Baptist Church, Charleston, WV - Pastor Jesse Waggoner
All Because Two People Fell In Love
From Kelby Collings- Salem, Utah. Kelby ordered this lettering using our previewer here.
Design Details:
Color - Charcoal
Dimensions - 39.75"w x 3.75"h
Lettering Size - 2-inch
All Because Two People Fell In Love
From Kelby Collings- Salem, Utah. Kelby ordered this lettering using our previewer here.
Design Details:
Color - Charcoal
Dimensions - 39.75"w x 3.75"h
Lettering Size - 2-inch
Results entrepreneurial resourceful Wall Decal
Texas Air Systems (WiseDecor word cloud with interns in front), Sarah Wunderlick, Irving, Texas (Dallas)
Wearered
Red Model Management, Tim Klein, New York, New York
Win The Day Wall Decal
Johns Hopkins University (Athletics Dept), Nancy Funk, Baltimore, MD
Office Rules Do
Patient Office Rules version 1 - From Dr. Carolyn Griffin, Back To Health Chiropractic - Santa Clarita, California. Click here to see more about this decal design.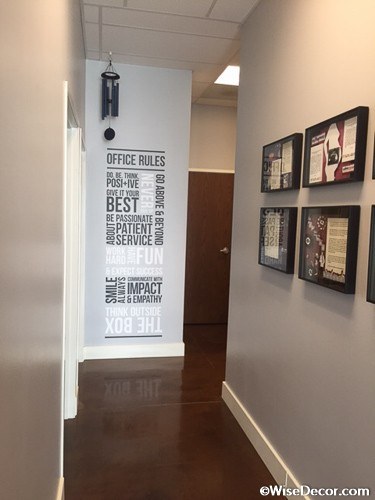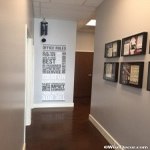 Office Rules Do
Patient Office Rules version 1 - From Dr. Carolyn Griffin, Back To Health Chiropractic - Santa Clarita, California. Click here to see more about this decal design.
Only Those Who Risk Taking Flight
Franklin Elementary School, Principal Dalia Mirrione, Summit, NJ
Transfer wall letters give you the hand-painted look … instantly!
Wonderful alternative to wooden letters and letter stencils
Great on walls, glass, mirrors, furniture and home decor
Pre-spaced, easy to apply, and removable!
Dozens of colors and styles, with nearly 40 matte (non-shiny) colors
Jazz up your words with Lettering Art
100% money-back guarantee!
OR browse different quote and design ideas…
View some of our favorite wall designs…
About WiseDecor
WiseDecor Decorative Lettering offers a fresh and inexpensive way to decorate every room of your home! We offer individual expressions with endless options for custom wall decals in rich, long-lasting colors and tasteful lettering styles to match any room's style. Whether you want elegant princess-themed lettering for a nursery or something simpler, we're your partner in finding the perfect match based on your preference and taste. You spark the idea in your imagination, and our experienced and creative team of designers will help you bring it to life.
About our products
Our custom wall decals are a unique way to "finish" a room. What's particularly special about it is that it's your own expression that has a deep meaning to you and your family. And we create it with care. Each decal is custom-made in our Greensboro, NC studio, not mass-produced in an overseas factory. The material we use is a durable resin without any clear film on or around your design, so it really looks like a painted-on stencil! And it can be easily applied to your wall. Even our multi-color designs usually come on a single sheet.
Our monogram collection is a sure way to bring a classic look to your children's room. We also have a sought-after collection of family established monogram designs that smartly embellish your home with a blend of ancestry and artistry.
The Word on your wall is a superb way to inspire your family's spiritual growth. You can browse our selection of scripture wall decals or choose one of our creative designs. Even better – write your life verse, carefully selected from your own journey.
And we have other languages in addition to English. Romantic Italian wall quotes are our forté. So is French, Spanish,Irish-Gaelic, and we even have beautiful Chinese calligraphy phrases. Each of these phrases is provided by real people who speak that language as their first language.
If you're a business customer, you'll be well-served by our attentive and skilled team. Since 2003, we've created internal and external signage for some of the world's largest corporations and universities, as well as local boutiques and primary schools. You'll prefer us for your vinyl lettering needs because we provide great choices that are perfect for beautifully exhibiting your company's mission and vision statements or adding inspirational wall quotes. These are perfect for boosting employee morale and energy. Many of our retail customers enjoy putting evocative lettering displays on their storefront windows to draw customers in. Art galleries, museums, and theatre venues like to use our lettering to label their exhibits or announce a new production. Churches love to display scripture on their walls for their members and visitors to enjoy. The possibilities are endless!
How to apply our products
WiseDecor believes that a beautiful design should be easy to execute. This is why we make sure that you can conveniently and immediately apply our products so you can enjoy them on your walls in no time. We have created a user guide complete with both video and text instructions for a no-sweat design application.
Why choose WiseDecor
We're a small family-owned business, operating with high integrity standards on the web since 2003. When the phone rings, one of our skilled designers sets down her work on a customer's order to answer the phone. You can expect a friendly, experienced, creative person who can help you realize your vision. She will have the answers and be able to offer you insights that you may not have considered. If you send us an email, the same team will handle that also, usually responding within minutes during business hours. She can help you with variations on one of our designs or help you design something completely unique, sending you mock-ups to confirm that your vision is understood. It's even better if you can send us a quick photo to help us visualize where the design will go.
It's fun to create your wall decal on our website. We have thousands of quotes to help you figure out what you want to say. If you already have a quote or phrase in mind, you can jump right into our decal customizer and see exactly how your design will look as you decide on the lettering style, color, and layout. We also make it easy for you to choose the right size, because we show you the width and height as you make changes.
We choose matte materials almost exclusively, because it has the most visual appeal! You can rest-assured that you're choosing from the best, because we only offer the highest quality. Our materials are made primarily for indoor application, but we have happy customers who've applied it to their camper in Alaska where the temperature drops well below zero. We also have customers who have applied it to the glass of their boutique in Florida where it withstands the extreme humidity and heat of the afternoon and evening sun. Yet it's gentle on your indoor walls to leave them undamaged when you remove it.
Easy shipping plus money-back guarantee
You don't need to travel to our NC studio as we will be more than happy to ship your order and have it delivered right to your doorstep. We offer affordable shipping rates, and we have lots of experience with shipping packages around the globe. It's a big world out there, and we really love the fact that our lovely designs are being enjoyed in Stockholm, Singapore, Mexico City, Mumbai, Luxembourg, Lagos, Paris, Cyprus, Bermuda, Belgium, Australia, Austria, Ottawa, Oslo, Jakarta, Germany, and many other places we'd love to visit in person. Even our customers that are far away from North Carolina can enjoy beautiful quotes and designs from WiseDecor Decorative Wall Lettering!
More importantly, our no-questions-asked money-back guarantee means that no matter what, you will have wall decals that you will love. We will gladly send a replacement to you or refund your money if you are not completely satisfied with our service. In fact, we will even refund the cost of shipping. WiseDecor values your happiness with our decorative lettering and our service.
Even if you somehow mess up the application process, you can usually just email a photo to us and we'll be happy to send you a new set at no additional charge.
Have ideas and suggestions? Talk to us!
We love to communicate with our customers and readers online. After all, hearing about how we can further improve our products and services is the best way to satisfy our customers. Follow us! We'd love to connect to you on Facebook,Pinterest, and Twitter.
And don't forget to subscribe to our Monthly Newsletter and receive the latest news by clicking SUBSCRIBE.